July 28, 2022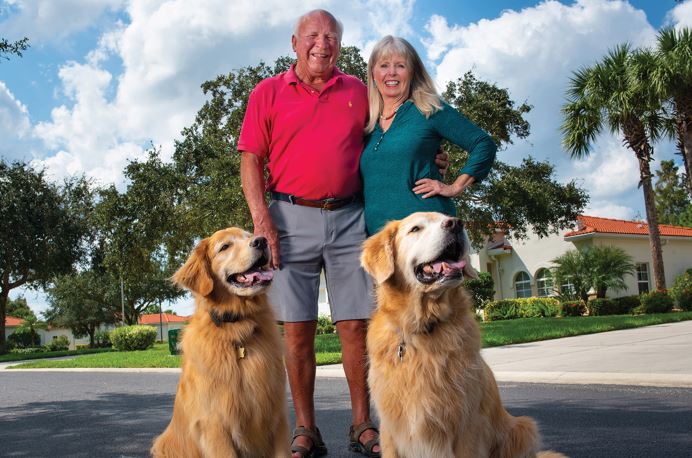 For Glenridge member Dr. Alan Grindal and his wife Beth, a relaxing morning starts with a quiet moment out on the lanai. For Sharyn Van Epps, a leisurely walk with her two long-haired dachshunds offers the perfect escape from a busy day. And if you ask Le Lindquist and partner Anita Shelare, there's no better "refuge" than their own home garden, where they tend flowers and seasonal vegetables in the fresh air.
It's not always easy to feel safe, secure and protected, especially in turbulent times – but here at The Glenridge, uncertainty and unpredictability become a thing of the past, leaving our members free to face the future with confidence.
That's because they know we're here for them:
In Rain or Shine. For most homeowners in Florida, the start of tropical storm season brings with it the anxiety of having to make a litany of emergency preparations. But, at The Glenridge, members have no such worries because we handle everything.And in our new Northside neighborhood now under construction, hurricane-impact windows with 9-ft. tall sliders, hurricane-rated garage doors, and supplemental emergency generator power will help to keep members safe and sound all year long.
Close to Home. The Glenridge goes the extra mile to support preventive wellness and lifelong well-being – and nowhere is that commitment more apparent than in our upcoming Kamberg Wellness Center, a $4.5 million, full-service health pavilion that will open this fall.In addition to mental health counseling, chaplain services, and even a social venue, the new center will also be home to our Living Well Clinic – directed by a Board-certified Adult Geriatric Specialist Nurse Practitioner – which offers convenient access to check-ups, flu shots, first aid and other routine care right on campus.
For Years to Come. With the highest quality of long-term healthcare available on site – consistently rated five stars by S. News & World Report – The Glenridge takes the guesswork out of planning for the future. No matter what tomorrow brings, you can rest assured that you'll have all the choices you need to live well.'
"The Glenridge gives us the freedom to 'age in place.'" says Dr. Grindal. "If time goes on and your health changes, there's a ready-made response to whatever needs you might have. That security was a major aspect of our decision to move here."
Are you ready to set aside your worries? Is it time to plan for peace of mind? Learn how our Life Fulfilling Community® can let you enjoy life your way, no matter what the future brings. Contact our Life Planning team today or call 941-552-5338 to set up your personal appointment and tour – and experience the magic of The Glenridge for yourself.
To learn more about what life is like at The Glenridge on Palmer Ranch in beautiful Sarasota, visit our other blog posts or find us on Facebook.