Kamberg Center
Redefining What It Means
to Live Well
ADDING YEARS TO LIFE … AND LIFE TO YEARS
Reflecting The Glenridge's holistic approach to total well-being, the Kamberg Center is an impressive health and wellness pavilion that embraces the Six Keys to Living Well®: physical, mental, spiritual, social, emotional and financial. Inspired by the largest philanthropic gesture in Glenridge history, the $5.5 million, two-story, 8,000+-square-foot Center is enabled by a series of gifts, including a nearly $4 million gift from member Tina Kamberg. The Kamberg Center will be a place where everyone feels welcome – and anyone, regardless of age, can truly
flourish
through engaged, inspired living – adding years to life and life to years.
A CONVERSATION WITH
TINA KAMBERG AND JIM CATER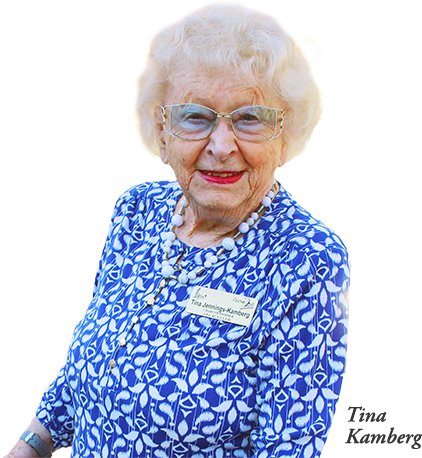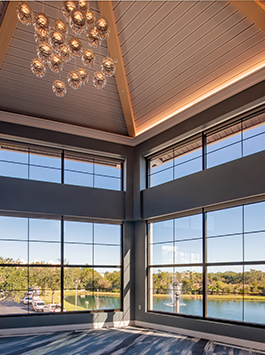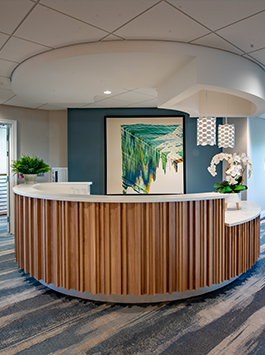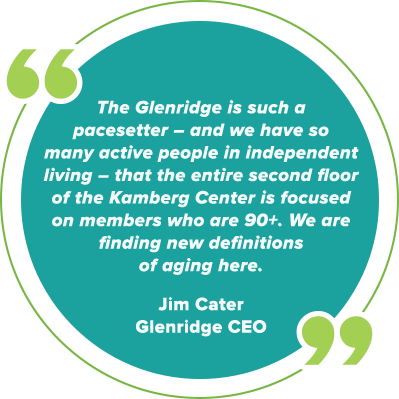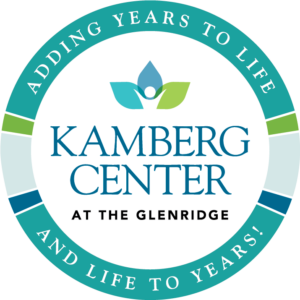 ENHANCING MIND, BODY AND SPIRIT
With a focus on health, hospitality, and holistic wellness, the Kamberg Center provides an array of services in a relaxing, spa-like atmosphere – all under one roof:
With large windows, lots of natural light, high-volume space, and a stunning view overlooking the lake, the Argentini Center for Rehabilitation features state-of-the-art equipment for rehab after illness, surgery, or injury. This area also includes private rooms for physical therapy and speech therapy, as well as a simulated apartment for occupational therapy.
Under the direction of a Board-certified Adult Geriatric Specialist Nurse Practitioner, the Living Well Clinic provides a variety of primary healthcare services ranging from routine exams and wellness checks to testing, lab draws and medication management, among others.
With high ceilings and expansive windows that let the outside in, The Glen is a multi-purpose gathering space for entertainment events and fitness/wellness classes including meditation, yoga, and mindfulness, as well as worship services and special speaker events.
Exclusively for Glenridge members who are nonagenarians and up, Club 90 is a spacious, comfortable area with recliners, a game/card table, books, games, and a large-screen TV – ideal for enjoying exclusive events … or just taking it easy.
A resource for brain-building tools and activities, the Brain Health studio features a library and reading room, with space for counseling sessions.
The Center will also accommodate activities, chaplaincy, and mental health/psychosocial counseling.
With the goal of providing a warm, welcoming, engaging environment, all events at the Kamberg Center are facilitated by our
Cruise Coordinator
, who organizes social and wellness programs.