August 3, 2021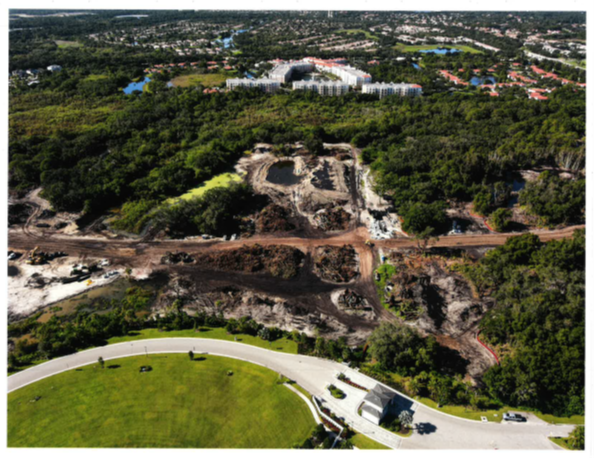 The earth is moving at The Glenridge – as site work progresses on our new Northside Neighborhood, the third expansion since the community opened in 2003.
As you can see from the aerial photo above, site clearing and grading are well underway, lake features are starting to be defined, and the contours of the neighborhood are clearly taking shape. During site preparation, wetlands have been protected, trees tagged, and a separate construction entrance was added on the west side to reduce traffic impacts on campus.
Site work began in June and clearing of the first phase for development is nearing completion. Construction on the first Northside homes is expected to begin in November 2021. Construction partners on the project include DeAngelis Diamond, general contractor; Earth Trades, Inc., site development; and Universal Engineering Sciences, geotechnical engineers.
Interest in the Northside Neighborhood remains extremely high and reservation deposits for premium lots are continuing to come in.
Located just north of the existing Glenridge campus – amid lakes, wetlands and upland preserve areas – the Northside Neighborhood is ideal for those seeking the privacy of their own home, lots of greenspace, and ample opportunities to enjoy the outdoors.
Because The Glenridge's lush natural environment is a true differentiator for our community, a top priority during site preparation has been preserving wildlife habitats and natural scenery, including a Grand Oak in Phase I. But that's not the only way Northside will coexist with nature: All residences will also be energy-efficient, with spacious backyards, scenic views of lakes and natural preserves, and easy access to biking and walking.
When complete, the expansion will comprise brand-new Club Homes and Villas, ranging from 1,522 to 2,338 sq. ft. Homes will feature barrel-tile roofs and stucco exteriors, as well as open-concept designs that bring in lots of light.
To learn more about what Northside has to offer, explore floor plans and renderings, take an interactive virtual tour of a Club Home, watch "The Magic Continues" video or visit our expansion website. You can also give our Life Planning Team a call at 888-999-GLEN (4536) or send a message to schedule your personal appointment and tour!
To learn more about what life is like at The Glenridge in Sarasota, visit our other blog posts or find us on Facebook.