December 13, 2022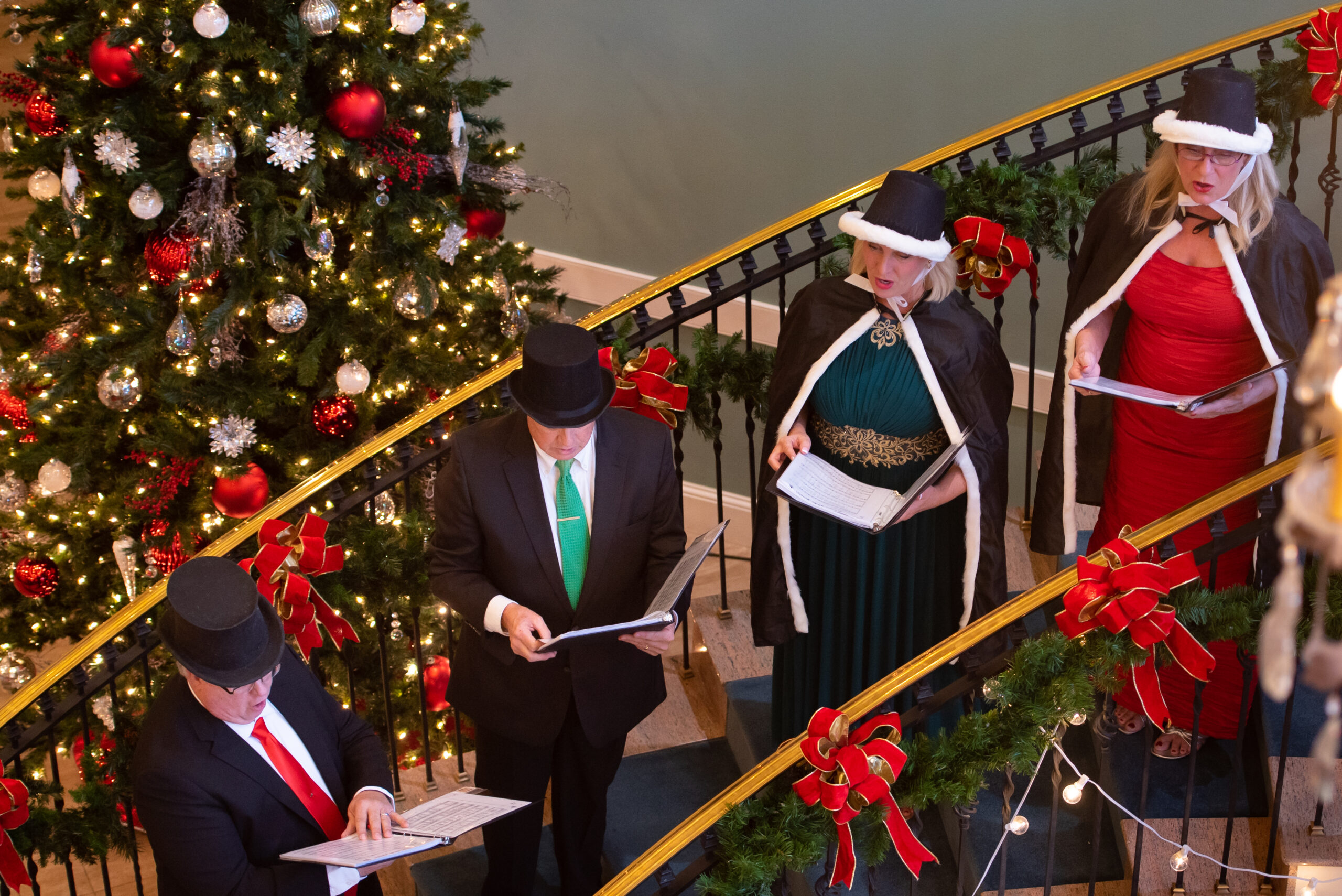 There's nowhere like home for the holidays … and that's especially true when your home is The Glenridge. From our soon-to-be-lit menorah to the towering Christmas tree at the foot of our grand staircase, we go above and beyond to ensure it really is "the most wonderful time of year."
As soon as you arrive, you'll be greeted by evergreen garlands, scarlet poinsettias, and a warm and welcoming atmosphere. Meanwhile, a collection of Santas and a display of gingerbread houses made by our members add a touch of personality and creativity to the festive surroundings.
The crowning jewel of our seasonal décor might be the annual "Christmas village," a model railroad and miniature winter wonderland designed by team member Kristin Collevechio. Filled with elaborate details, lights, moving figures and more, the village is the result of months of preparation: Planning begins as early as February, and assembly begins in October.
This year's village is the largest yet, and it features plenty of new details for the discerning eye to discover. Amid snowy streets lined with shops, homes, and toy workshops, you can spot villagers bundled up for caroling and skating, tinsel-trimmed trees, and even a visit or two from Santa and his reindeer.
Decorations are just the tip of the iceberg, and our members enjoy an abundance of merriment and music that lasts all season long. After kicking off the season earlier this year with a performance by the Glenridge Singers, our community chorus, we welcomed more than 200 guests to our lively Holiday Gala to get in the festive spirit.
Live holiday entertainment is offered throughout the month, including stairway serenades from visiting artists and caroling quartets at our cocktail lounge, the Thistle Stop. Members can also enjoy a selection of classic movies (Love, Actually; Christmas in Connecticut; The Holiday; For Me and My Gal; and more) as part of our regularly scheduled film airings.
Of course, what matters most during the holidays is heart – and thanks to our caring, gracious members and dedicated team, we think that's also one of the things that sets our community apart. There's "magic" at The Glenridge all year round … helping members find inspiration, renewed purpose, and the freedom to flourish.
"Every day, we're newly delighted with our choice to live here," say members John and Nancy Meyers. "The Glenridge is the best gift we've ever given to ourselves – and it's one that certainly keeps on giving!"
To experience "The Glenridge Difference" firsthand, pay us a visit! Send us a message or call our Life Planning Team at 941-552-5338 to schedule your personal appointment today.
For more information about what life is like at The Glenridge on Palmer Ranch in beautiful Sarasota – named the best place in the U.S. to retire – visit our other blog posts or find us on Facebook.