June 12, 2023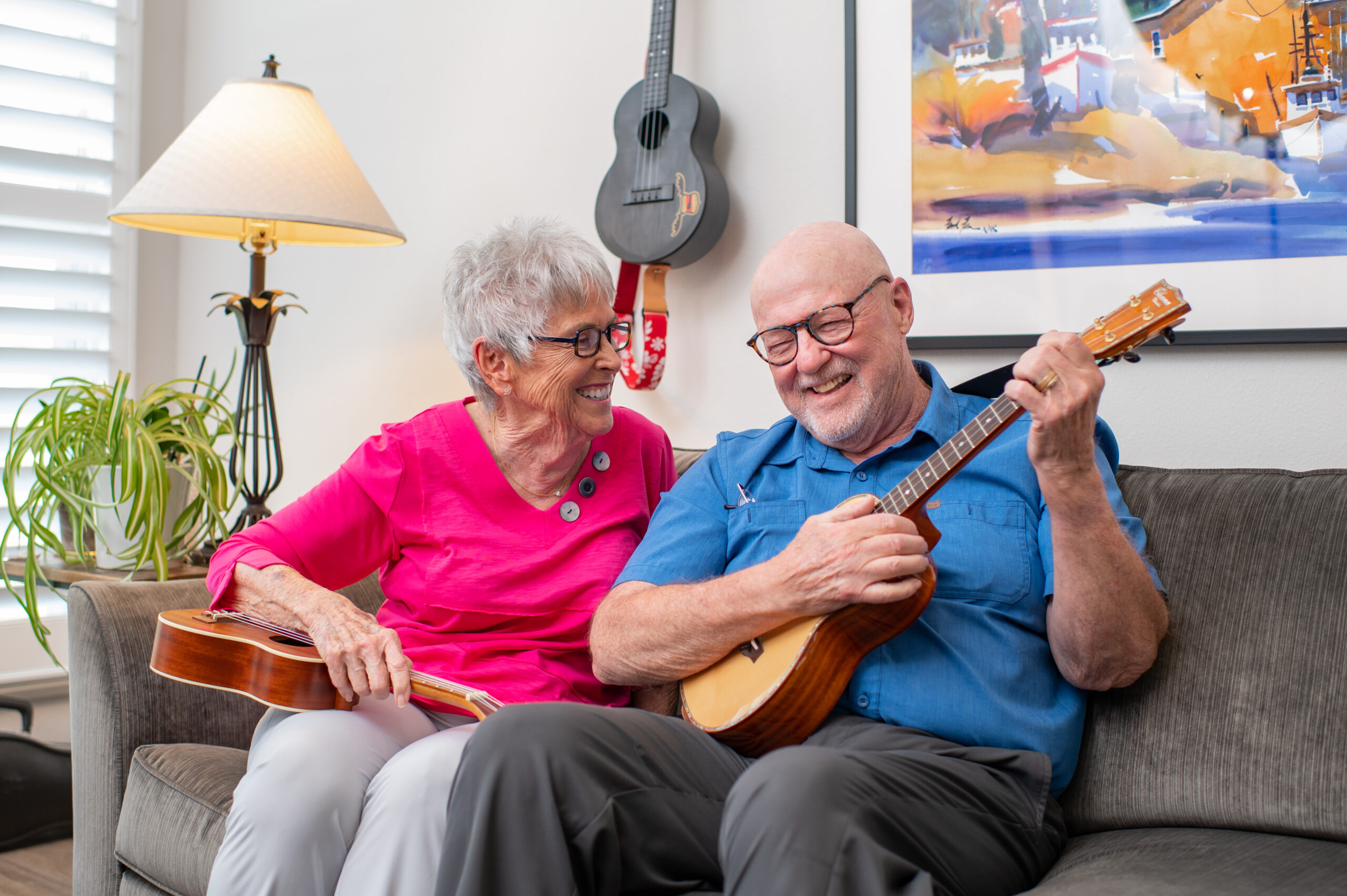 Playing ukelele and painting landscapes. Jewelry-making and woodworking. Golf and genealogy. For Tom and Valorie Pruitt, moving to The Glenridge has been an exercise in exploration – a chance to pursue their interests in an engaging, carefree environment.
"My philosophy on life is that I want to do everything I can in the time I have," says Tom. "Everything they offer here – the enriched education, the Fitness Center, the pool, the dining, the socializing, the beautiful campus – is even better than we expected. It's rejuvenating."
After spending much of his career in the "left-brain" field of accounting, Tom's enjoyed exploring his creative side in retirement: painting, sculpture, pottery, music, reading, and finishing a rug-hooking project that he started in 1993. Meanwhile, Valorie enjoys quilting and cards – when she's not joining Tom for beachside ukelele sessions with friends.
Now "in the thick of things," Tom and Valorie are surrounded by opportunities for entertainment, culture, learning, cuisine – and getting to know a lively community of new friends and neighbors. "We have met the most interesting people in the world here, from all walks of life, with all kinds of interests – and they all have fascinating stories to tell," says Valorie.
Living in a smaller home has also afforded them more freedom to travel and embrace their hobbies, says Tom: "When we moved in, we focused on 'uncluttering' – we didn't fill the place with things we didn't want or use, and it's amazing how much better it feels."
But of all the advantages and amenities The Glenridge has to offer, the Pruitts agree that the most significant is also the simplest: They'll never need to worry what the years ahead might bring – because they have assured access to high quality healthcare, if ever needed.
"You have to have a plan for what the next chapter is – and hardly anybody does," Valorie says. "For us, we wanted a community that had independent living, as well as higher levels of care – one-stop shopping!"
Tom agrees: "Here, we're able to flourish in our later years – so don't wait until you have a need before you start thinking about your life plan."
At The Glenridge, our community culture is built on a positive, stimulating environment that fosters creativity and growth … a pressure-free lifestyle that's liberating and empowering … and an array of personal choices – beginning with a variety of residences to call "home."
Learn more about how you can get started on your Life Plan today: Give us call at 941-552-5338 or send us a message. And for more information about what life is like at The Glenridge on Palmer Ranch in beautiful Sarasota – named the best place in the U.S. to retire – visit our other blog posts or find us on Facebook.