August 3, 2022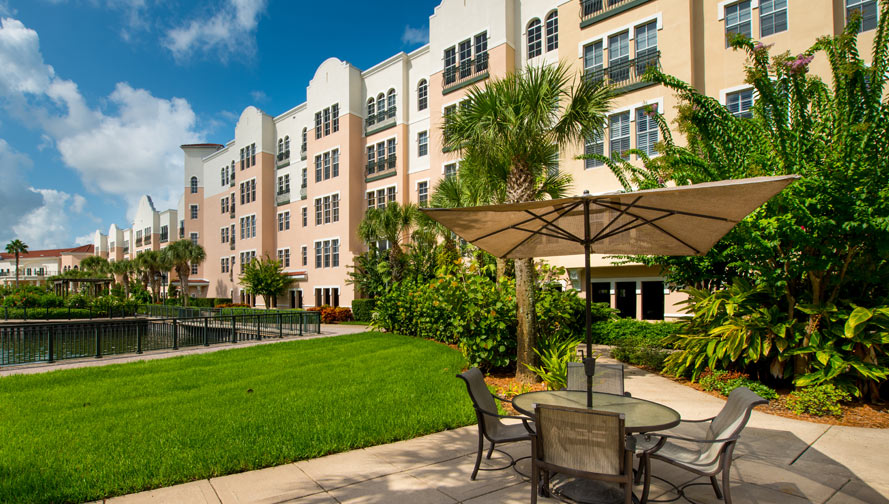 From the moment you arrive at The Glenridge's 150-acre campus, you start to get a sense that you're somewhere distinctively 'different.'
As you approach the gated entrance, you're greeted by lush tropical foliage and flowers … and beyond that, winding trails and lakes, surrounded by the peace and quiet of natural preserves. You might even catch sight of a blue heron – or hear a red-shouldered hawk call overhead.
Florida is known for its beauty, and there's no better place to experience it than The Glenridge. That's because we know that where you live makes a big difference in how you live – and whether you're going for a walk outdoors, tending a garden, or simply enjoying the scenery, greener environments go a long way to support whole-person health.
Here, you'll find:
Unparalleled Privacy. Unlike most other Life Plan Communities, which are high-density, The Glenridge offers just the opposite: low-density, wide-open spaces with lots of privacy. And – with our new Northside Neighborhood now under construction – we're the only senior living community in Sarasota building brand-new, single-family homes in an environment with more opportunities to enjoy the outdoors.
Plenty of Fresh Air. Start your morning with a brisk bike ride around our campus's scenic trails. Harvest fresh herbs and vegetables from the garden. Race model sailboats on the lake. There's no shortage of opportunities to get out and about at The Glenridge – and if you're a dog owner, our pet-friendly environment means that Fido is welcome to join in the fun.
A Thriving Habitat. Our sparkling lakes, upland preserve areas, and abundant greenspace aren't the only features that make The Glenridge an escape into nature. Our members also share the neighborhood with a wide variety of flora and fauna, including white-plumed wading birds and aquatic life.
The Ideal Destination. For folks who love adventure, Sarasota has a lot to offer. Head out for a bike ride on Legacy Trail; enjoy an afternoon of boating or canoeing at Myakka River State Park; or spot manatees and dolphins on the Bayfront – all just minutes from The Glenridge's campus.
When you live at The Glenridge, there really is "no place like home." Experience our one-of-a-kind lifestyle – and learn how our community can help you flourish – by planning your visit today. Call our Life Planning Team at 941-552-5338 or send us a message to schedule your personal appointment and tour.
For more information about what life is like at The Glenridge on Palmer Ranch in Sarasota, visit our other blog posts or find us on Facebook.