March 16, 2021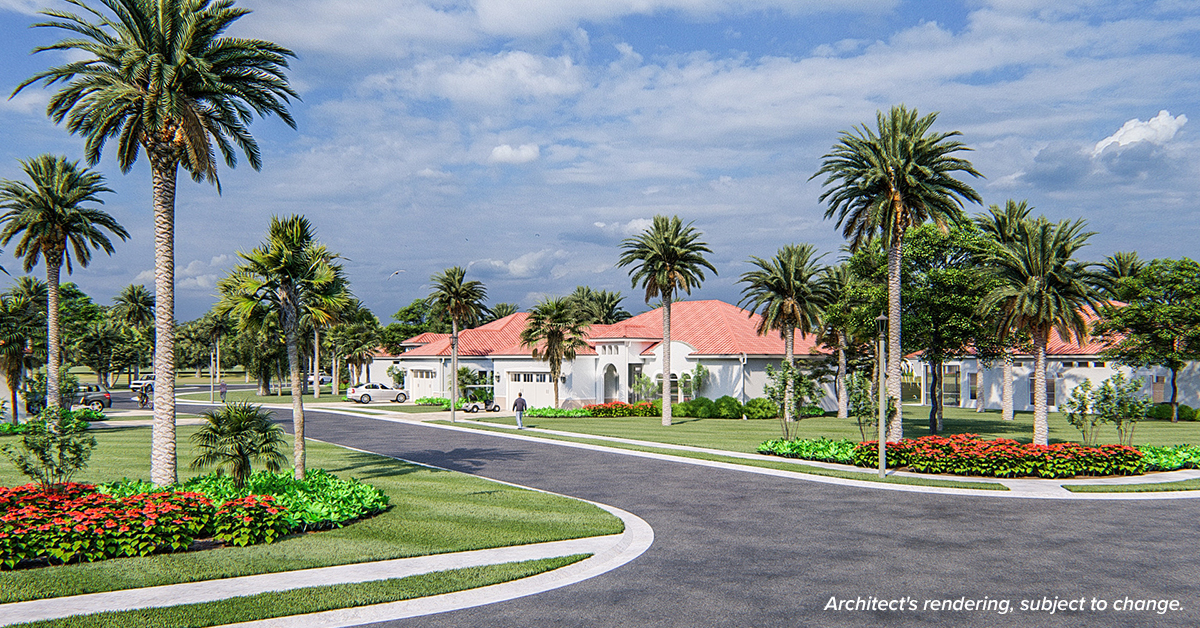 Independence: That was what led Jeff and Jane Johnson to The Glenridge. After moving to Siesta Key from Louisiana, the couple settled down in Sarasota and began thinking about a future with more freedom and less upkeep.
"We wanted to be unconstrained, without waterfront maintenance and a garden to worry about," recalls Jane. "And we loved The Glenridge from the moment we saw it."
Not only did The Glenridge offer an array of luxury amenities – from a 90-acre campus to a state-of-the-art Performing Arts Center – but it was also embarking on a new expansion that was ideal for the Johnsons: the Northside Neighborhood.
Nestled amid 25 acres of greenspace, the neighborhood will comprise Club Homes and Paired Villas, with scenic views of lakes, wetlands, and upland preserve areas.
"Northside appealed to us instantly because it offers so many choices: décor, finishes, even reserving our home site. We have so much flexibility – and we love that," says Jane. "The Club Home was perfect, too: high ceilings, an open floor plan, a two-car garage – and plenty of privacy."
As Jeff sees it, Northside is a unique win-win: "It offers access to everything The Glenridge has to offer – entertainment, social connections, healthcare, culture – combined with the freedom and open space of a new, private home."
Just as important, the Johnsons are excited to meet new neighbors – and reconnect with friends.
"We have one friend who's already bought a house in Northside, and another who's seriously looking into buying one," says Jane. "To say nothing of all the wonderful, welcoming people we've met so far. We can't wait to settle in!"
But the biggest benefit of choosing The Glenridge, says Jeff, is peace of mind: "After plenty of research, we know that that the care offered here is far superior," he says. "We can be sure that when we need it, we'll be taken care of – and in the meantime, we can enjoy all the opportunities available to us."
Although their move is still on the horizon, the Johnsons have wasted no time in settling in. Jeff joined The Glenridge's "Yacht Club," a group that races remote-controlled sailboats several times a week, while Jane looks forward to practicing with the Glenridge's Mahjongg players. Both are eager to enjoy the plays and concerts hosted at the GPAC.
"Security, friendship, activities, carefree living, and independence," says Jane. "I could go on – but that says it all!"
Discover why Jeff and Jane Johnson – along with many others – have chosen Northside. On our expansion mini-site, you can explore floor plans, take a virtual tour, and get to know all the advantages this new Glenridge neighborhood has to offer.
By securing your spot at Northside today, you'll lock in lower prices … and get access to the best choice of homesites. Plus, as an added level of protection, your 10% reservation deposit will pre-qualify you for Glenridge membership – even if a health event occurs after your initial assessment and prior to the completion of your new home.
Call our Life Planning Team at 941-552-5338 to schedule your personal appointment and tour – or send us a message. We look forward to hearing from you!
For more information about what life is like at The Glenridge on Palmer Ranch, visit our other blog posts or find us on Facebook.