October 13, 2023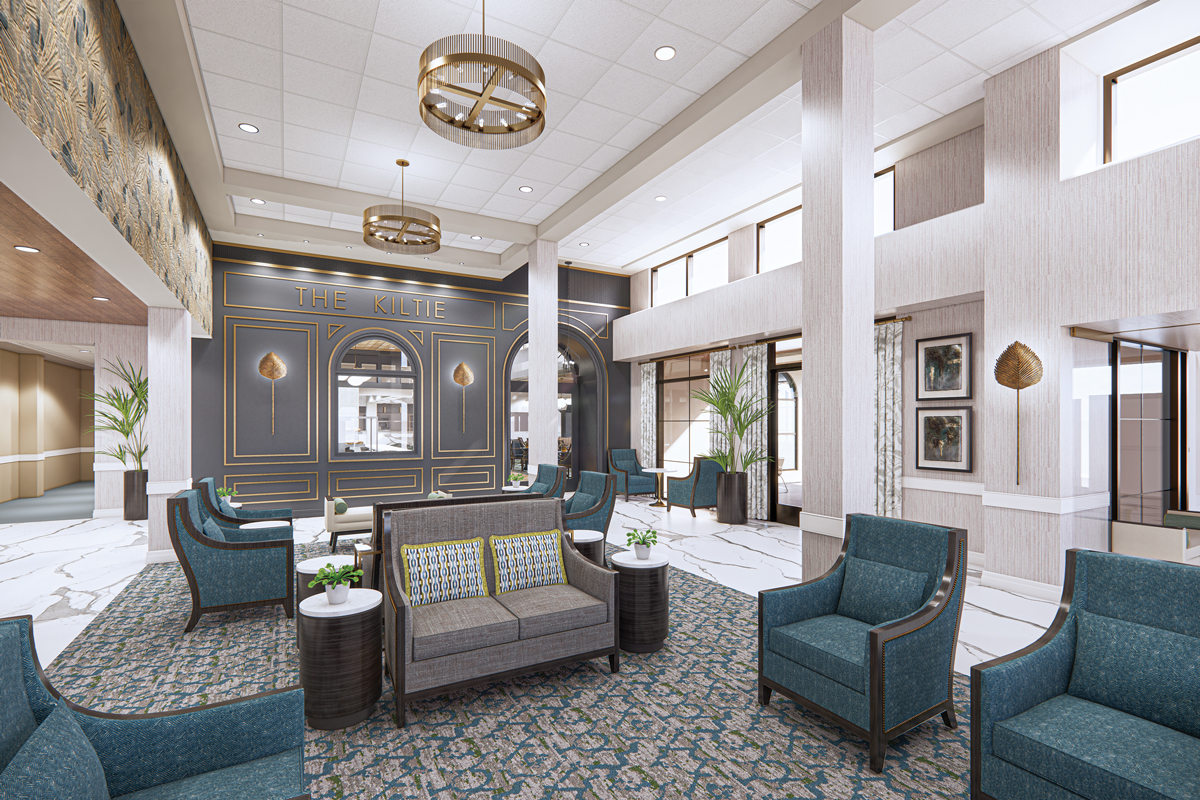 Bold, savory flavors. Homestyle hospitality. A creative menu of cuisines that span the globe. When The Glenridge's culinary leaders and chefs joined forces to reimagine the longstanding Kiltie Café into a new kind of dining experience, they weren't afraid to think big – and soon, Glenridge members will savor the results firsthand.
Expected to welcome its first guests later this fall, the newly dubbed "Kiltie Grille" offers a convivial pub-style dining experience, complete with renovated interiors, a state-of-the-art kitchen, and a menu redesigned from the ground up.
"We're home to members who have lived in and traveled around almost every part of the world, and we wanted to reflect that variety through food," said Kevin Morrow, who leads the Dining team at The Glenridge. "That brought us to our current vision: a gastropub style with bold tastes and global inspiration."
A flavor-packed menu will feature classic pub fare like loaded potato skins and beef brisket nachos alongside creative new offerings: Japanese-inspired soba noodle salad, South-Carolina-style crab cakes, and Vietnamese banh mi sandwiches with pickled vegetables. Lighter dishes will also be available, including chef-crafted salads and vegetarian selections.
And if you're in the mood for something sweeter, you'll have options, adds Kevin: "At the front of the house, we'll be serving ice cream in fresh waffle cones – you'll walk in and smell them baking. For breakfast, you'll have all the classics, including chocolate and almond croissants, scones, and cinnamon rolls baked fresh daily."
A display kitchen will allow members to watch their dishes in the making, creating an engaging dynamic between servers and diners. "When you come to the Kiltie Grille, you're not a customer. You're a guest in our house – and we're here to make you feel at home," says Kevin. "That starts with a warm welcome at the door, great service, and hearty dishes made to order."
Freshness and made-from-scratch flavor were a top priority for the Kiltie Grille, and the team spared no effort to design a kitchen that was up to the task. A double-stack pizza oven from New York can bake a steaming hot pizza in just three minutes. Top-of-the-line smokers will prepare smoked meat on site, and a rotisserie will slow-roast whole chicken and prime rib – ready for order fresh off the spit.
That goes for the beverage menu, too. At the bar, a state-of-the-art nitrogen wine dispensing system keeps wine fresh longer, allowing guests to order from a wide selection of quality labels from around the world.
Because the Kiltie Grille will also offer quick-grab and take-out options, the culinary team needed to ensure that meals ordered ahead would be as delicious as those served in-house. The kitchen is equipped with warmers and coolers to keep food at just the right temperature until guests pick it up – so when they sit down to eat, it'll be ready to enjoy.
The Kiltie Grille's highly anticipated opening is just one of many exciting new developments on campus this year, from the grand opening of the $5.5 million Kamberg Center to the latest renovations to the Glenridge Theater District and Fitness Complex.
Explore your future in a community where you can take charge of your future, optimize your lifestyle, and flourish … with all the best in dining, art, entertainment and culture at your doorstep. To schedule your telephone appointment or personal tour, just send us a message or give our Life Planning Team a call at 941-552-5369.
For more information about what life is like at The Glenridge on Palmer Ranch in beautiful Sarasota – named the best place in the U.S. to retire – visit our other blog posts or find us on Facebook.