June 22, 2023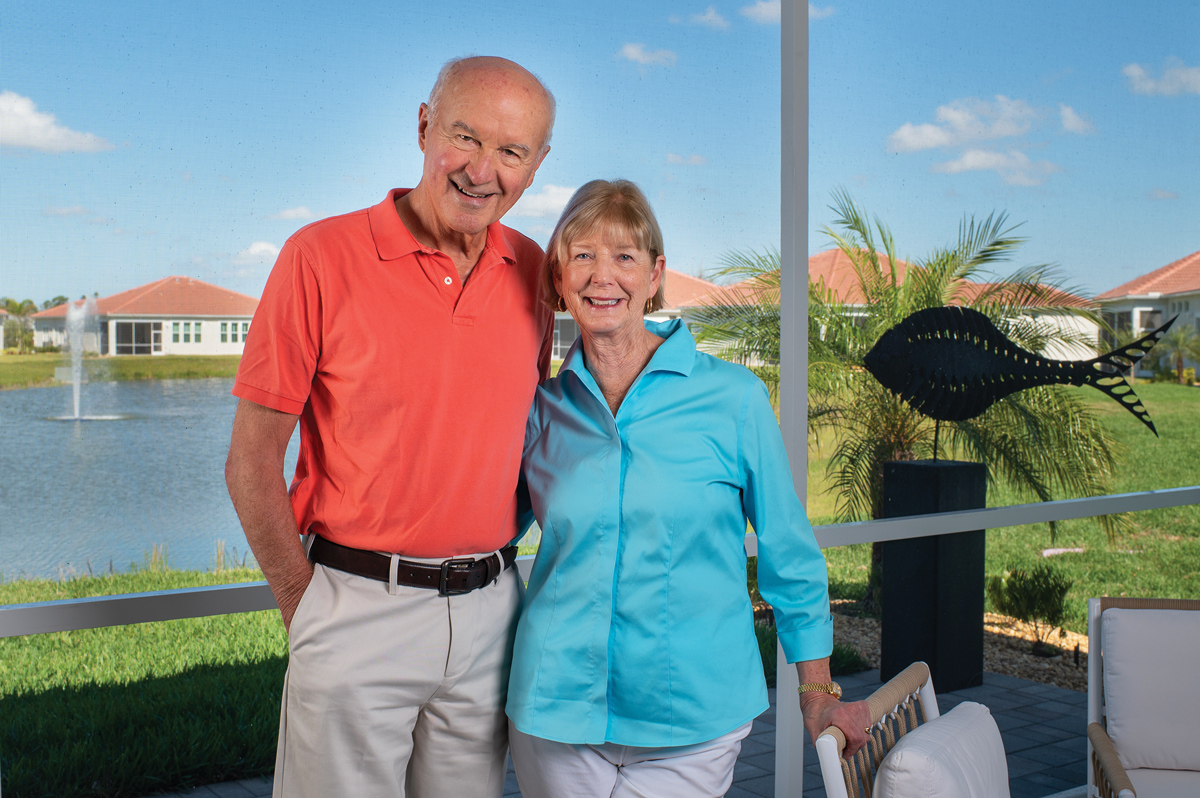 Adventure has been a constant in life for Dick and Sally York. He was a former Navy pilot who flew jets during two tours of duty in Vietnam, and now drives vintage racecars in local Historic Sportscar Racing competitions. She traveled the world as a flight attendant for Pan Am.
So when they began planning their next move, finding a community that fit their fast-paced lifestyle was a top priority, Sally says: "We've always been active people … so, when we began to plan ahead for the future, we wanted an environment that let us stay active. We needed our space."
And when the Yorks heard about The Glenridge, it didn't take them long to realize that the community – and the new Northside Neighborhood in particular – was the perfect fit.
"We settled on Northside pretty quickly," says Sally. "The single-family homes and small-neighborhood feeling really appealed to us. It's tranquil and relaxing here – we're surrounded by nature, with a lot of bird life and wildlife."
Situated amid 60 acres of lakes and lush landscaping, Northside features more privacy, less density, and plenty of greenspace. Here, members can enjoy a morning coffee on their own lanai … watch the birds and wildlife, and then head out the front door for a brisk walk or a scenic bike ride around our 150-acre campus.
The Yorks say they're delighted to settle into their beautiful new home – and to enjoy the freedom that comes with the maintenance-free lifestyle. Most days, Dick can be found taking one of his racecars – which range from a 1973 BMW 3.0 CSL to a Ferrari 360 Challenge – out for a spin at the track. Meanwhile, Sally enjoys a collection of hobbies "all over the map," including fitness, croquet, and reading historic fiction.
But for all the advantages that set Northside apart, it's the neighbors who make the community truly special. "If I had to say my favorite part about life at The Glenridge, it all comes back to the people," says Dick. "We've yet to meet a single person who isn't friendly and interesting."
All in all, the Yorks agree that choosing Northside was the right move for them and their family – because in addition to outstanding amenities and pressure-free living, Glenridge members can rest assured knowing they'll have access to a continuum of high-quality healthcare, located right on campus.
"We wanted to give our kids the gift of not having to worry about us," says Sally. "And we knew we'd be happier if we made a life for ourselves, instead of leaving it to chance."
As neighbors continue to move in, there's no better time to get to know about Northside. Give our Life Planning Team call at 941-552-5338 or send us a message to learn more or book your personal appointment and tour.
For more information about what life is like at The Glenridge on Palmer Ranch in beautiful Sarasota – named the best place in the U.S. to retire – visit our other blog posts or find us on Facebook.