August 23, 2021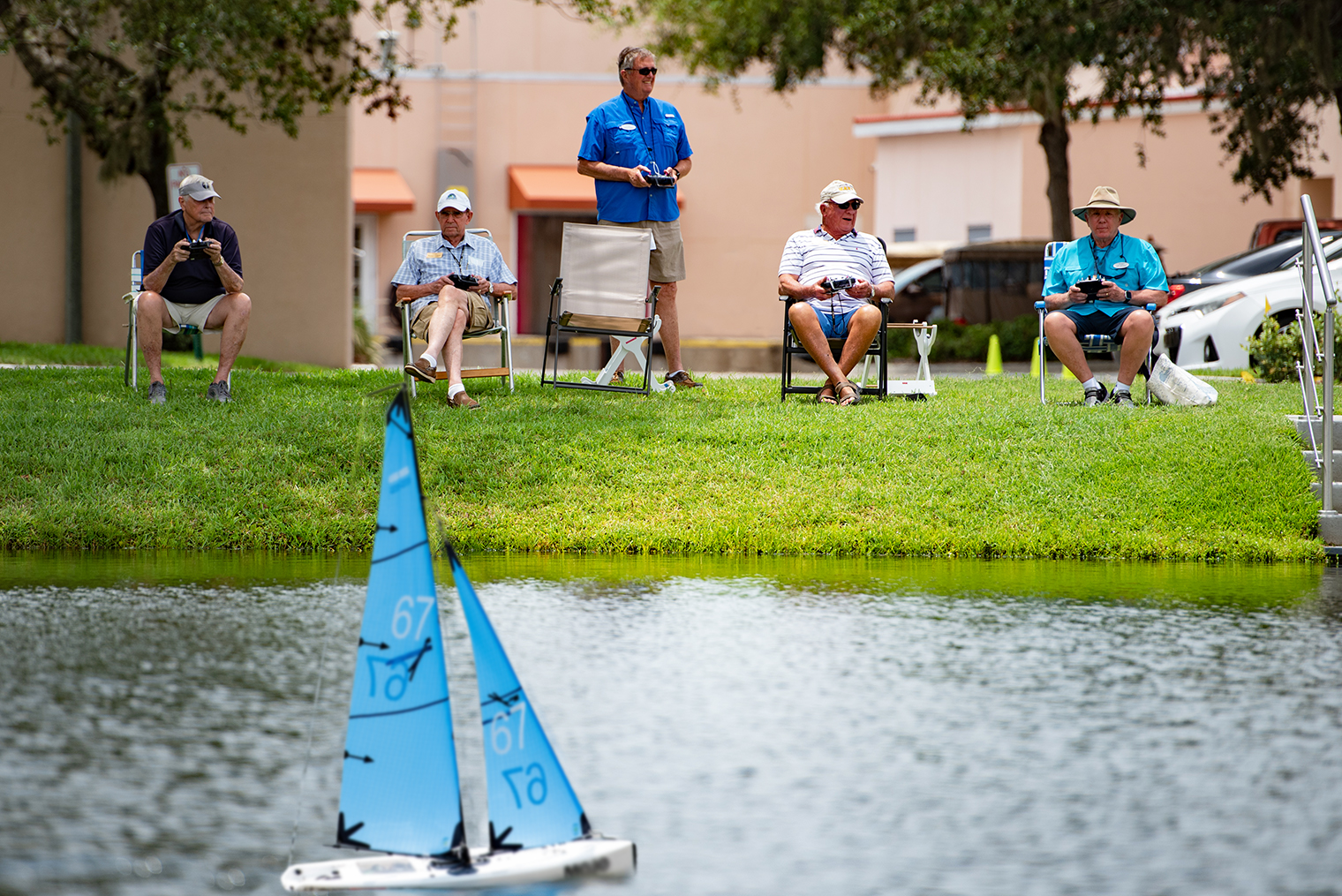 Tony Parker is no stranger to the open seas. After retiring, he and his wife Joyce traveled more than 36,000 miles up and down America's waterways, from Ottawa to the Bahamas— all while living on a boat with their two cats.
"There are probably three or four thousand folks who do the same thing — migrate from New York to Miami every year," he says. "Once, we met a couple over in the Bahamas returning from a trip around the world. A lot of the friends we've made over the years were from boating."
Although he's since settled down at The Glenridge, Tony is still making friends through his love of boating … at the community "Yacht Club," which races remote-controlled sailboats out on the campus lake.
Led by "Commodores" Le Linquist and General Howard Crowell, Jr. (a former President and CEO of The Glenridge), the club has been around since 2018 and continues to welcome a bevy of new members to construct and compete with model sailboats. Despite its scale, the club's "fleet" is high-tech: The miniature vessels operate just like the real thing, with sails that can be adjusted to the direction of the wind.
"It's a true racing sailboat," says Le. "Anybody who's sailed larger boats can get the hang of it quickly — but we have lots of novices who have never been on a sailboat, who are having just as much fun."
New recruit Jeff Johnson has plenty of experience behind the sail: Before moving to The Glenridge, he and his wife Jane enjoyed taking taking their sailboat out for jaunts in the Florida Keys.
"Even before we moved in, Jeff was already coming down once a week to sail with the team," says Jane. "It's a great sport — and that's how we first met people here. Those were our first friends at The Glenridge."
"There's a great sense of camaraderie," agrees Tony. "So many of the people Joyce and I met through the club, we've ended up meeting for dinner. And I love being outdoors, enjoying the fresh air, and this gives me an excuse to do that."
For current members – or those who are planning a move down the road – there's no better place than The Glenridge to enjoy Florida's beauty. Dotted with sparkling lakes and natural habitat, the community's lush, tropical environment has long been a big draw. That is true, as well, for our upcoming Northside Neighborhood expansion. Located amid 35 acres of lakes, wetlands, and upland preserve areas, the neighborhood will offer an escape into nature — right in your own backyard.
"We've always lived close to nature, so we just couldn't see ourselves living in a high-rise apartment or city condo," say the Parkers. "When we heard about Northside, we knew we found what we were looking for."
The first phase of Northside is sold out, and additional homesites are going quickly! Call today at 941-552-5338 or send us a message to set up your personal tour or telephone appointment.