March 1, 2023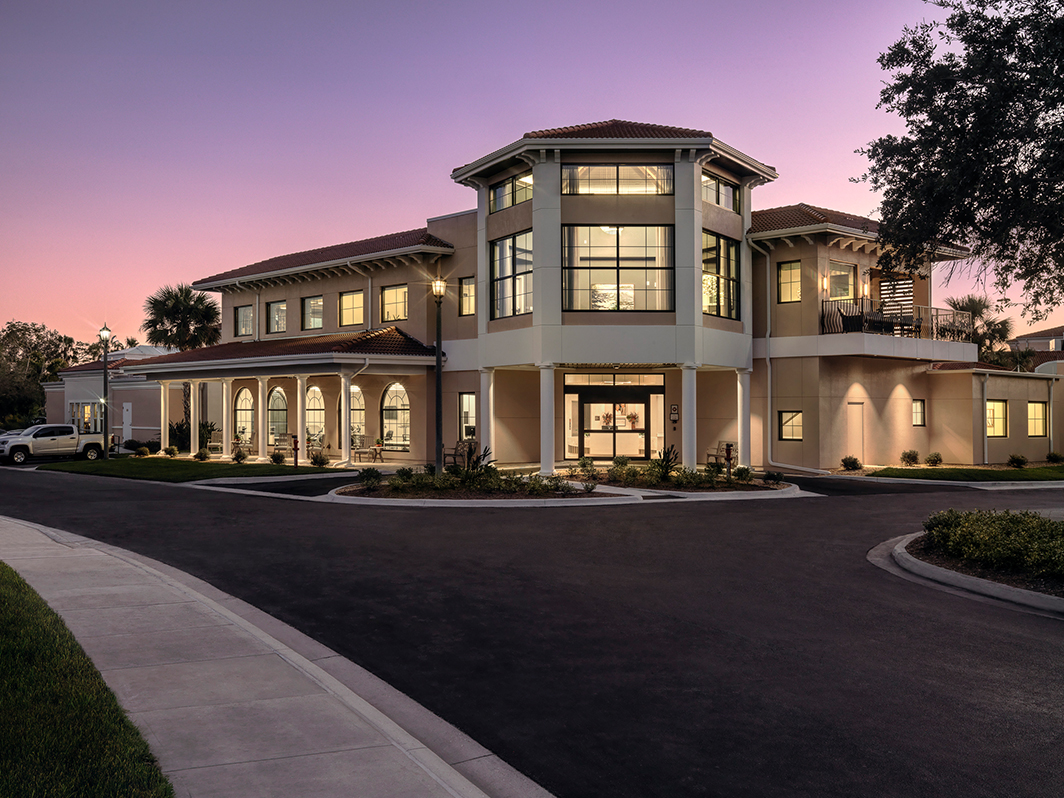 New Health and Wellness Pavilion Takes Holistic Approach to Total Well-Being
Press release, February 16, 2023
SARASOTA, Fla. – Continuing to evolve to meet the needs of its members, The Glenridge on Palmer Ranch recently opened the Kamberg Center, a state-of-the-art, full-service health and wellness pavilion inspired by the largest philanthropic gesture in the community's history. Enabled by a series of gifts, including a nearly $4-million-dollar gift from member Tina Kamberg, the $5.5 million, 8,000+-square-foot building embraces the Six Keys to Living Well® philosophy, with services geared toward physical, mental, spiritual, social, emotional, and financial well-being.
"The Glenridge has always been a pacesetter," said CEO Jim Cater. "From the very beginning, we developed a culture that nourishes the whole person and encourages members to live life to the fullest – and that is especially true of the Kamberg Center. Mrs. Kamberg's generosity has created a legacy that will help our members flourish for generations to come. We are finding new definitions of aging here."
Enhancing mind, body and spirit, the Kamberg Center will feature an array of services in a relaxing, spa-like atmosphere:
• The Argentini Center for Rehabilitation features state-of-the-art equipment for rehab after illness, surgery or injury. The area also includes private rooms for physical therapy and speech therapy, as well as a simulated apartment for occupational therapy.
• Under the direction of a Board-certified Adult Geriatric Specialist Nurse Practitioner, the Living Well Clinic provides a variety of primary healthcare services ranging from routine exams and wellness checks to testing, lab draws and medication management, among others.
• The Glen is a multi-purpose gathering space for entertainment events and fitness/wellness classes including meditation, yoga and mindfulness, as well as worship services and special speaker events.
• Designed just for Glenridge members who are nonagenarians and up, Club 90+ is a spacious, comfortable area that's ideal for exclusive events, enjoying a game of cards, or simply taking it easy.
• Featuring a library and reading room, the Brain Health studio provides resources for brain-building programs and counseling sessions.
• The Center will also accommodate activities, chaplaincy, and mental health/psychosocial counseling.
• With the goal of providing a warm, welcoming, engaging environment, all events at the Kamberg Center are facilitated by our Cruise Coordinator, who organizes social and wellness programs.
An integral part of The Glenridge's long-term strategic plan, the Kamberg Center is one of several improvement/expansion initiatives currently underway at The Glenridge – including the brand-new Northside Neighborhood, which comprises single-family Club Homes and Villas. Also on the horizon are enhanced lifestyle amenities and refurbishments to the existing campus: an expanded Performing Arts Center; an art gallery that will showcase the work of Glenridge members as well as visiting artists; a pub-style dining venue with a bar, exhibition kitchen, indoor and outdoor seating, and options for "quick-grab"/takeout; and an enhanced Fitness Complex that will include pickleball and bocce ball.
"Everything we're doing at The Glenridge speaks to the fact that we're visionary," adds Cater. "We've always been innovators – and we're always evolving."
The Glenridge on Palmer Ranch, a Life Fulfilling Community®, is located on a 150-acre campus situated within the master-planned Palmer Ranch community. The Glenridge features individual Club Homes and Villas, low-rise private Residences, a 60,000-sq.-ft. Village Commons area with multiple dining venues, a 260-seat Performing Arts Center, a Fitness Center, a 75-ft. heated pool and two HAR-TRU® tennis courts. The Glenridge also offers a Health Assurance Guarantee program, which provides members with access to private care residences in assisted living, memory support, and skilled nursing at a significant discount to the market rate.